I've been talking to people about why we use MODX. One thing I'm hearing is "MODX is obscure and we're afraid there aren't enough developers."
---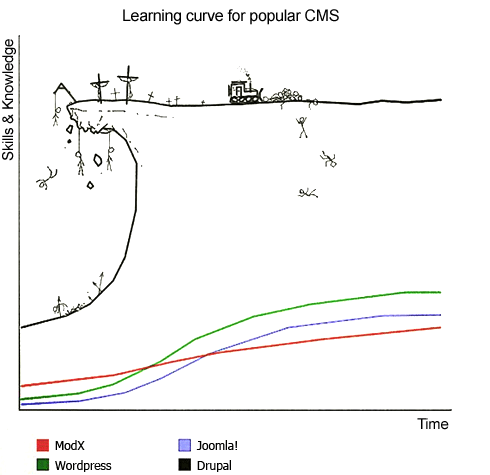 Let me clarify something for you. You don't have to have a MODX Developer to work on your MODX "brochure" site. That's one huge reason that we use MODX. Other CMS's have proprietary structures and some complex things you have to know in order to upgrade or modify them. There's a pretty big learning curve.
To develop with MODX, you need to know html. You need CSS, Javascript. You need php if you want to build something special. There aren't bazillions of plugins because you don't need them. MODX has a lot of great stuff built-in. If there is a need for something that isn't already out there, most developers can just write what's needed, no bloat. If enough people need the thing, they will share it as an Extra.
You don't need a "MODX Developer."
With MODX, you just need a developer.
With MODX, you just need a developer. Any developer can pick up what they need to know to work on most "brochure" MODX websites with about an hour of reading. The templating is straightforward. That's what you need to understand. For a MODX theme, you code out what you want in html and then put in the MODX tags to replace the pieces that need replacing. They use the tagline "Creative Freedom" because it's true. You have total freedom with MODX.
It's unbelievable but it's true. That's why developers who turn to MODX are diehard fans. We're not limited. We have all of the advantages of a CMS with so much less of the pain. Is this a bad thing in some cases? Might be. It means that we can't charge or bill for esoteric knowledge that others don't have.
It also means that we can work on other things that matter, like helping you with ideas for your content marketing.
Are there advanced topics in MODX? Yes. And someone who is super familiar and experienced with MODX and all of its power is the best person to talk to if you have complex needs. However, the beauty of MODX is that scaling it up when you need those intricate functions is much easier than doing so on other platforms. The truth is for many many web sites you won't need to ever even look at those advanced functions.
To update a MODX site's content you don't need a developer at all. You can't break the site really either, if you screw it up. The content and the code that makes things work are separated. An insurance agent, an office manager, a digital marketer can update a MODX site's content and yes, it's more intuitive than WordPress.
Here's what my page editor looks like when I'm writing a blog post. This is my backend editor, but you can have a front end editor if you want one. I don't. This is full screen. No clutter at all, just me and the page. Super duper simple and clean. But if you hate the rich text editor, its a simple thing to swap and I can name four of them off the top of my head. A really popular one is Redactor. It takes about 15 minutes to make that happen. You might like Markdown instead. You can do that too.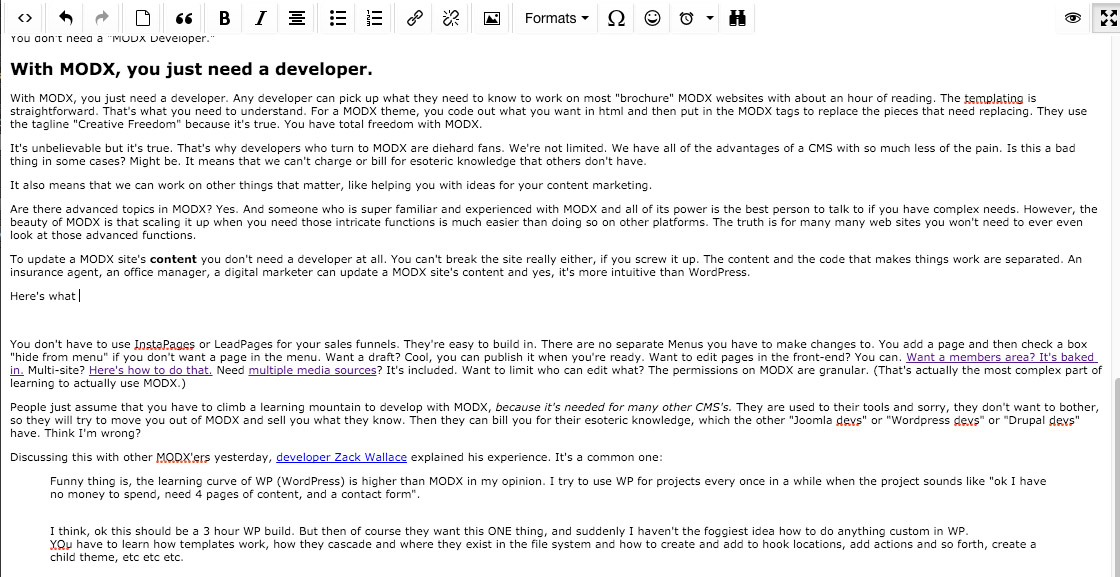 Here's how hard it is to optimize for SEO. Thumbs up or thumbs down.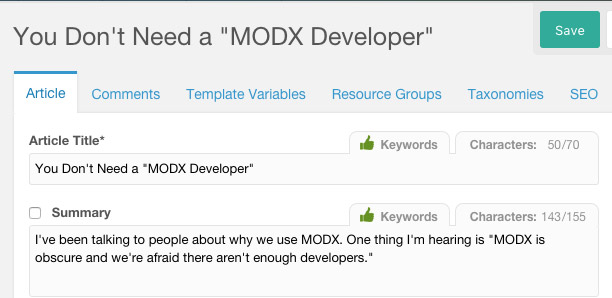 Taxonomy? Done. It's right there.

301 Redirects? Add one. They look like this.

You don't have to use InstaPages or LeadPages for your sales funnels. They're easy to build in. There are no separate Menus you have to make changes to. You add a page and then check a box "hide from menu" if you don't want a page in the menu. Want a draft? Cool, you can publish it when you're ready. Want to edit pages in the front-end? You can. Want a members area? It's baked in. Multi-site? Here's how to do that. Need multiple media sources? It's included. Want to limit who can edit what? The permissions on MODX are granular. (That's actually the most complex part of learning to actually use MODX.)
People just assume that you have to climb a learning mountain to develop with MODX, because it's needed for many other CMS's. They are used to their tools and sorry, they don't want to bother, so they will try to move you out of MODX and sell you what they know. Then they can bill you for their esoteric knowledge, which the other "Joomla devs" or "Wordpress devs" or "Drupal devs" have. Think I'm wrong?
Discussing this with other MODX'ers yesterday, developer Zack Wallace explained his experience. It's a common one:
Funny thing is, the learning curve of WP (WordPress) is higher than MODX in my opinion. I try to use WP for projects every once in a while when the project sounds like "ok I have no money to spend, need 4 pages of content, and a contact form".


I think, ok this should be a 3 hour WP build. But then of course they want this ONE thing, and suddenly I haven't the foggiest idea how to do anything custom in WP.
You have to learn how templates work, how they cascade and where they exist in the file system and how to create and add to hook locations, add actions and so forth, create a child theme, etc etc etc.


To me, doing something "custom" in WP is worlds harder than something custom in MODX. But on the flip side, doing a super fast 3 hour project with 4 pages of content could be built faster in WP if you already know where you're going with the theme and stuff.


WP is easy when you need nothing beyond themes and plugins defaults.
MODX is easy when I want a custom design and need to stick things in random places and do custom stuff. As long as the custom stuff doesn't require building an entire PHP addon from scratch.

...I for one, at least when building a product for a business, would rather have solid support from a single company who makes a product, than have to deal with support from 9 different random developers who may or may not ever get back to you on issues.
Solid Support from a Single Company that Makes the Product.
Yeah, there's that. If you have 53 plugins and they are all made by different developers and you need to make changes? That can get interesting fast. As another MODXer, Josh Curtis, remarked:
It's all good until you need to make a change that you can't just tick a box for
We believe in giving our clients and users as much power and freedom as possible. That's why we use MODX. Don't be fooled by those trying to talk you out of using it. There's only one honest justification for moving out of MODX: the developer in question has a toolset they are used to. That's fine, well and good. But you might want to find out why they have that toolset before you pay to switch. Do you want to narrow your options that much? Do you want to be confined to one group of developers? Or do you want to be able to pull from the whole pool?
The other question to ask is, are these people really web developers or are they plugin superusers posing as developers? But ... that's another blog post.
I will qualify. Because a lot of web sites that have complex needs use MODX, you might have a site built that did have more complex needs and it might take more than an hour to work through them, but it doesn't take that much time. Certainly it will take less than with other popular platforms. Scaling MODX is one of the reasons people choose to build with it. Don't pay to migrate platforms without investigating that option.
---
About the Author
Anne Miles is the owner and Toad-in-Chief at Red Toad Media. A trained graphic designer, Anne has been a speaker at WordCamp and the IRCE Digital Design Conference. She has been interviewed by Inc Magazine and the Wall Street Journal and published a contribution for Smashing Magazine, one of the top web design blogs in the world. You can follow her on Twitter at @redtoadmedia
---